All-Purpose Household Cleaner | Printable Label
How many cleaners do you have under your kitchen sink? What about the bathroom sink or in your laundry room? If you round them up, my guess is there are no less than 20 bottles of all different kinds of cleaner. What if you could ditch all of those bottles and replace them with just one bottle of cleaner?
It's been over 8 years ago that I did just that. A bit skeptical, I got this bottle of concentrate, added a capful to a bottle of water and viola–I had this amazing smelling cleaner, that I could use on my sinks, mirrors, counters, floors—all the things!
You can find under each of our sinks, a bottle of the Thieves Cleaner. I love it because it's plant-based, safe and natural. Just one bottle of concentrate makes 30 bottles of cleaner (that's less than $1/bottle).
SUPPLIES
Amber glass bottle
I love using glass bottles for my cleaner. And of course a super cute label is a must! I created the one below, and I'm sharing it with you!
All Purpose Household Cleaner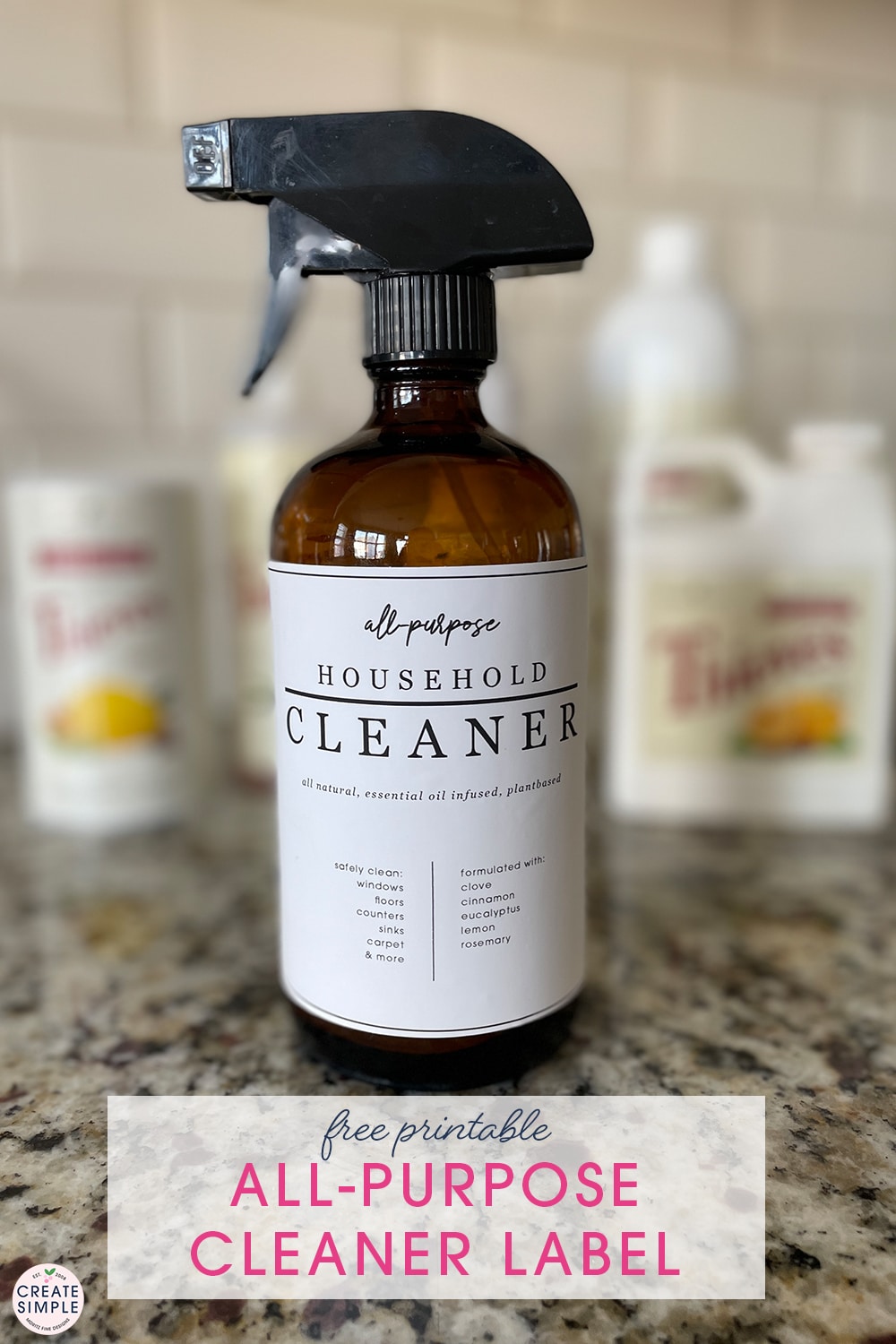 You can apply it in one of 2 ways-print on plain white paper, and use some clear packing tape to place over it (not quite so cute, but it's cheap and easy).
Or you can grab this vinyl waterproof sticker paper, print and place on your bottle!
Guess what–there are so many other Thieves products we have adopted as well! How about taking a quick tour around our kitchen and I'll share with you!
Want to get in on this plant based cleaner that is safe for your entire family? You can order just one bottle of Thieves Cleaner or get the Thieves Premium Starter Kit.
The Premium Starter Kit will last you forever!! Remember you just need one capful of Thieves Cleaner to 16 oz. of water to make your cleaner! If you are a new customer to Young Living, and purchase the Thieves Starter Kit (or any YL Starter Kit), send me an email (hmoritz (at) moritzfinedesigns.com) with a screenshot of your order information, and I'll send you a diffuser!
Now it's time to grab your label for your all-purpose cleaner bottle. Click the button below to download, open and print.
IT IS POSSIBLE TO
ENJOY STRESS FREE HOLIDAYS THIS YEAR!
The holiday season can be downright exhausting. We have too many things to do and not enough time to get them done. The 2023 HOLIDAY PLANNER will not only help you get organized, but will also help melt away that holiday stress so that you can actually enjoy the season!