Free Printable Back to School Art
Celebrate the Journey of Learning with our Free Back to School Art!
Summer days wane, and a new academic chapter beckons. Embrace the spirit of learning with our exclusive Back to School Art! This charming illustration captures student excitement and eagerness as they prepare to explore knowledge.
Colorful Composition
Our art features vivid school essentials – notebooks full of possibilities, colorful pencils for ideas, paintbrushes for creativity, rulers for success, and more! A harmonious arrangement symbolizes the learning adventure ahead.
Inspiration and Encouragement
The Back to School Art inspires students of all ages to embrace the academic year with enthusiasm and open minds. Each item represents tools and opportunities for young minds to flourish.
Get more back to school printables! From first day of school photo signs to planners and everything in between we've got lots of ideas for you!
Print and Decorate
Support the academic community with our free printable. Download the high-resolution file and decorate classrooms or study spaces with the back-to-school spirit.
TIP: Decorating on a budget: print for pennies using my tips and tricks I share here.
Share the Joy
Spread the joy of learning by sharing this artwork with students, teachers and parents. It fosters positivity and unity for the scholastic journey.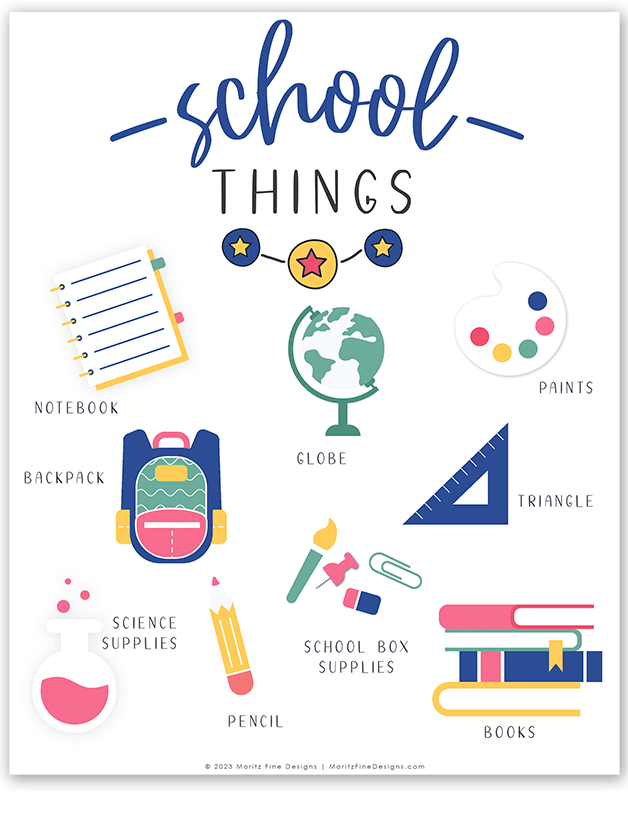 Download Now: Click below to download your free Back to School Art
Note to Parents and Educators: Use the artwork for classroom decorations, bulletin boards, or educational purposes. Don't alter, use commercially, or distribute without attribution.
Embrace the Adventure
As summer ends and classrooms open, remember education's endless possibilities. Embrace the adventure, and each day of learning leads to growth and achievement.
Welcome back to school, and let the joy of learning illuminate your path!
IT'S TIME TO
GET READY FOR 2024!
Get organized for 2024 with the easy to use monthly 2024 calendar! Simply opt in below to have the FREE calendar sent straight to your inbox.