How to Save Money on Your Christmas Gifts
Every year, you tell yourself this will be the year you make a gift budget for Christmas. Yet despite your best planning, every year you find yourself going nuts in the stores. You get so caught up in the holiday spirit that you end up spending way too much on gifts! If you have trouble sticking to your holiday budget each Christmas, we are going to show you how to make smarter choices throughout the year, to save big on Christmas gifts!
Start shopping December, 26th
It's no secret that the after-Christmas sales are hot! You should be starting next year's shopping trip as soon as the last one has ended. You can use the Holiday Kickstart Organizer to help you plan who you need to shop for. Start planning ahead so that way you can score great deals on your family's gifts when they go on sale.
Know your sales cycles
Once you've determined what you would like to get each person, or if you at least know the category, pay close attention to sales cycles. Sales cycles will tell you when rock bottom prices for various items will be, and you'll be able to buy everything on your list at the lowest price. Here is a yearly sales cycle to get you started:
January: diet products and workout equipment, football related items, storage and organization products, calendars and planners, Christmas themed items, winter clothing such as jackets and hats, and baking products.
February: leftover Christmas toys, winter clothing, Valentine's themed baking products, Chinese new year products.
March: spring cleaning items, garden supplies, basketball items.
April: organic or environmentally friendly products, auto products, spring baking products, Easter, rabbit, and spring themed items.
May: barbecue or picnic supplies, Mexican themed products, Mother's Day related items, and auto products.
June: July 4th, camping, and outdoor supplies.
July: June continued sales, summer clothing, toys, patio supplies, and outdoor decor.
August: back to school deals and bbq equipment.
September: baby products, bikes, and gardening supplies.
October: Halloween and other spooky products, toys, and baking supplies.
November: baking goods.
December: baking supplies, fall decor, and fall baking products.
Download (using the button at the bottom of the post) and print the Yearly Sales Cycle for Rock-Bottom Prices Cheat Sheet to keep track of what to buy during different times of the year.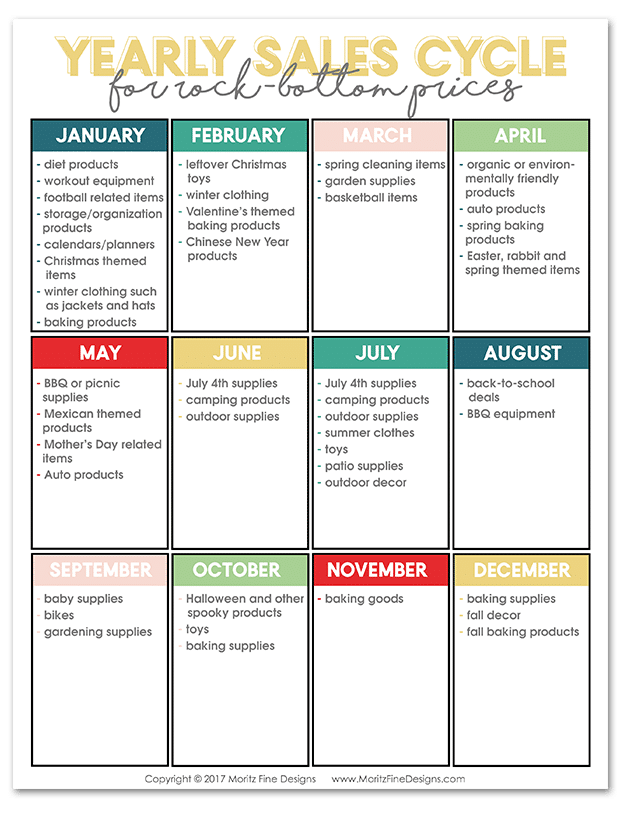 Watch for online sales with free shipping
Seasonally, online stores will offer deep discounts with free shipping on everything from clothing to electronics. Over the years, I have found that typically the cheapest online prices can be found at Amazon. We invest in Amazon Prime to get free 2-day shipping year round.
Honestly, not a week goes by that I haven't ordered something from Amazon–whether it be a food product or an electronic–they seem to have everything and this keeps me out of stores like Target where I used to drop way too much money on things I didn't need.Christmas time is the BEST time to give Amazon Prime a try (did you know you get free movie and book rentals too?)? Use this link for a free month of Amazon Prime.
Stay organized
One of the downfalls of shopping ahead of time is that people tend to forget what they purchased throughout the year. Use the holiday gift tracker  to keep you organized and help make sure you don't overbuy or forget to buy something.
Holiday shopping is stressful and expensive, but buying gifts for your family doesn't have to be! Shop throughout the year for all of your holiday needs and you'll be ready for Christmas before the holiday season even starts.
IT'S TIME TO
GET READY FOR 2024!
Get organized for 2024 with the easy to use monthly 2024 calendar! Simply opt in below to have the FREE calendar sent straight to your inbox.