Make Christmas Easy, Use the Adult Christmas Wish List
As the holiday season approaches, the air is filled with joy and anticipation. It's the time of year when we gather with loved ones, exchange gifts, and create unforgettable memories. But let's be honest – finding the perfect gift for the adults in your life can be a real challenge. That's where the Adult Christmas Wish List comes in, your secret weapon for ensuring everyone receives a gift they truly desire.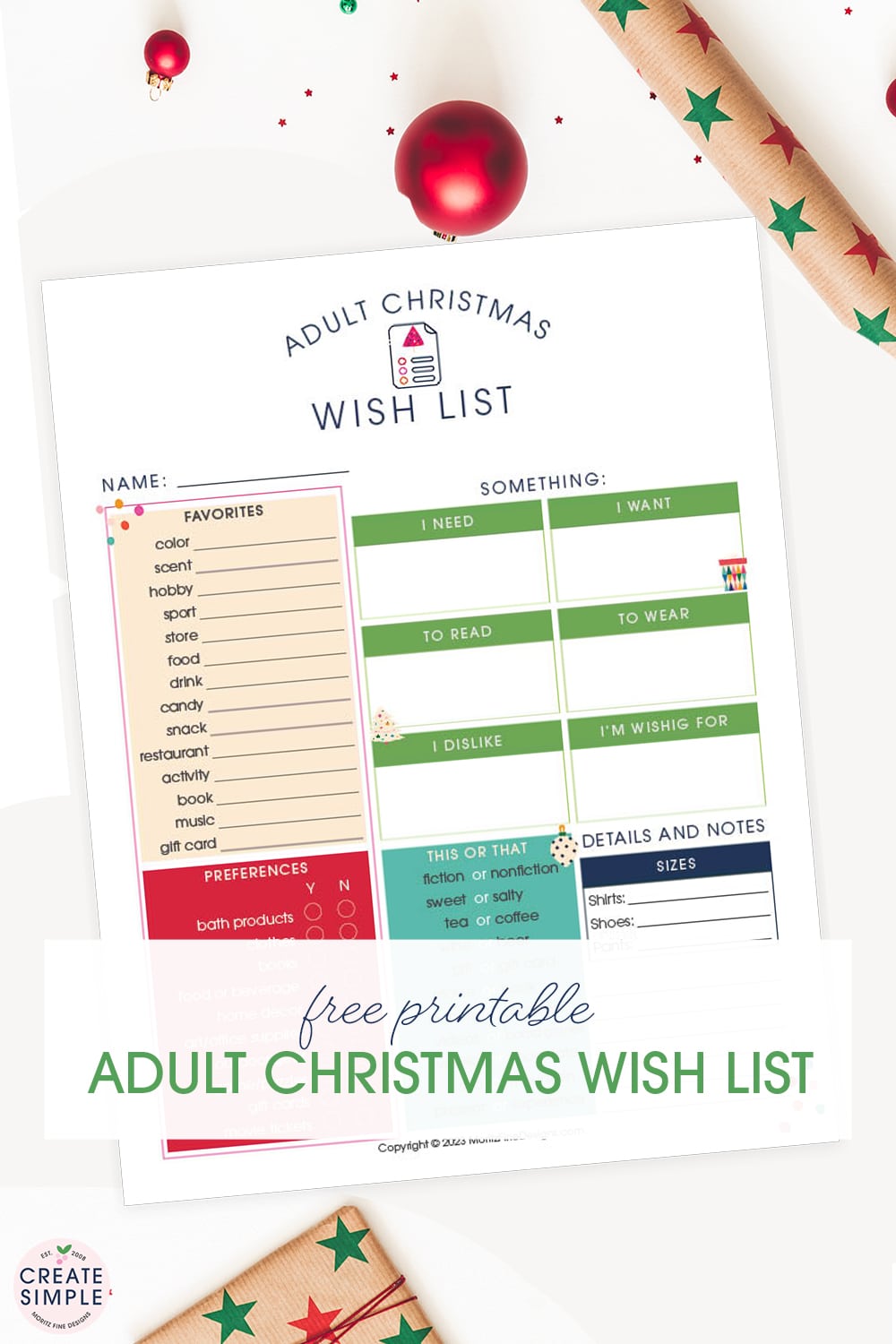 Why You Need the Adult Christmas Wish List:
Eliminate Guesswork: One of the most common holiday stressors is trying to guess what your loved ones want. The Adult Christmas Wish List eliminates this uncertainty, making it a breeze to pick out gifts that will genuinely make the recipient smile. It's the ultimate gift-giving solution.
Strengthen Relationships: When you encourage your spouse and adult children to fill out their own wish lists, you're not just simplifying gift shopping; you're also strengthening your relationship. This simple act shows that you care about their desires and are eager to make their Christmas special.
Avoid Unwanted Gifts: We've all been there—you receive a well-intentioned gift that you can't quite find a use for. The Adult Christmas Wish List ensures that those awkward gift-giving moments are a thing of the past. By filling out the list, your loved ones provide you with a clear roadmap for picking out presents they'll truly cherish. Need a wish list for kids? We have one of those too!
Tailored to Individual Tastes: This printable goes beyond the basics of a traditional wish list. It allows your spouse and adult children to list their favorite books, music, hobbies, and even experiences they'd love to have. This level of detail ensures that the gifts you give are truly personalized.
Create More Meaningful Moments: Christmas is about more than just exchanging presents; it's about creating lasting memories. Make the Adult Christmas Wish List, a part of your Christmas experience—along with decorating, a Christmas morning treasure hunt, and more.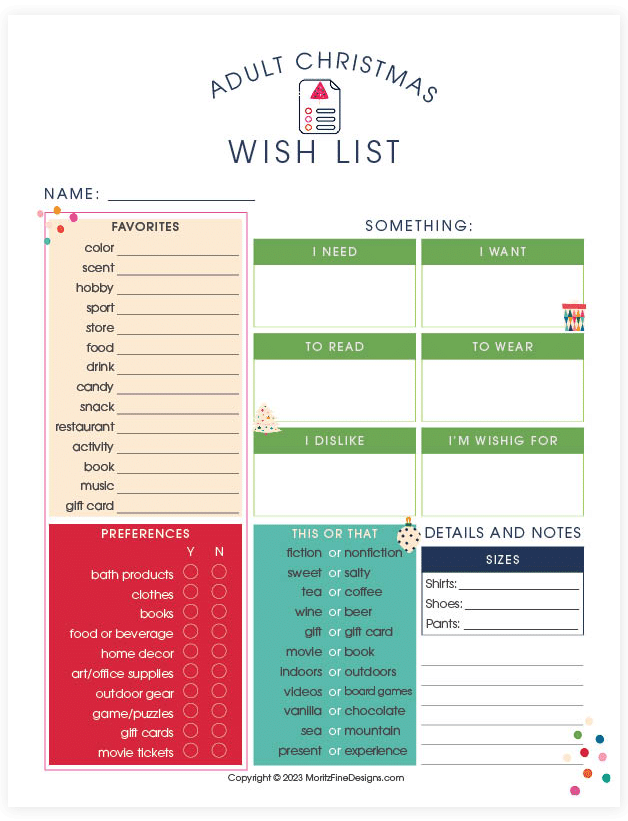 How to Get Started:
Download the free Adult Christmas Wish List printable from the link below.
Encourage your spouse and adult children to fill out their wish lists, and do the same for them. Make it a family activity that adds excitement and anticipation to the holiday season.
Use the lists as your shopping guide, making the process more enjoyable and stress-free.
The Adult Christmas Wish List is a game-changer for anyone who wants to make the holiday season extra special for the adults in their lives. By eliminating guesswork, fostering stronger relationships, and ensuring every gift is meaningful, this printable can transform your holiday gift-giving experience. Don't let another Christmas pass by with generic gifts and missed opportunities for making cherished memories. Get started with the Adult Christmas Wish List and watch your holiday celebrations become truly magical.
IT IS POSSIBLE TO
ENJOY STRESS FREE HOLIDAYS THIS YEAR!
The holiday season can be downright exhausting. We have too many things to do and not enough time to get them done. The 2023 HOLIDAY PLANNER will not only help you get organized, but will also help melt away that holiday stress so that you can actually enjoy the season!