Here we are at week 2 in my super tiny mini-series on Technology Organization for Men! I hope some of you were able to take advantage of the great iPhone backgrounds last week and took the time to organize your phone a bit.
Last August I wrote a post, How to Organize a Messy Desktop 5 Minutes. This is my post popular post ever and people just love the look and feel of their computer after they have uploaded the new background and arranged the desktop. It gives a sense of calmness to look at your computer and not feel overwhelmed with clutter!
MEN, organize your desktop in 5 minutes, and every guy in the office will be jealous!
Check out my organized desktop on my MAC, with my guy-looking background! For all you visual peeps, this is a dream come true! It's a quick way to look at your computer and at a glance find something quickly!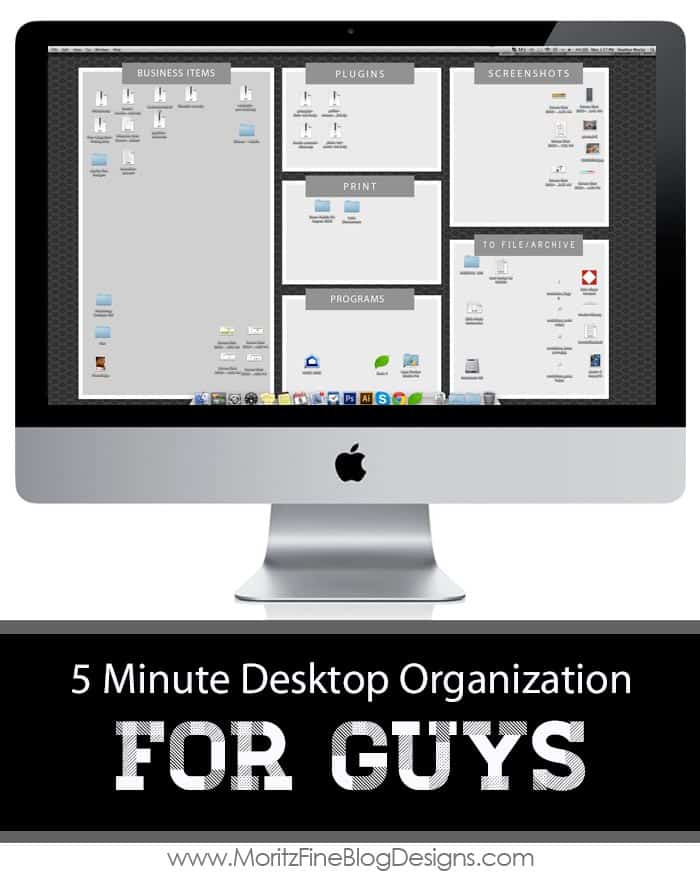 These simple steps will help you get organized quickly!

1. Find out what size resolution screen your computer is.

For a Mac, you can select the System Preferences from the Apple Menu, then click on Displays. Next to the word Resolution, make sure your radio button titled "Scaled" is clicked and look to see what resolution is highlighted. This is the size download you will need.

For Windows, Click the Start button, then click Control Panel. Under Appearance and Personalization select Adjust screen resolution. Check to make sure the monitor you want to examine is selected in the drop-downDisplay list. Below that, you will see the drop-down resolution list, with your current setting showing the number of pixels horizontally and vertically. This is the resolution size you will need for your download Click cancel to leave things as they are.

2. Download the correct size desktop background from below.

3. Next, go to Picmonkey, upload the image and add the titles to each box. Then re-save the image.

4. Now you will need to upload the image as your Desktop Background.

For Mac users: select the System Preference for the Apple Menu. Select the Desktop & Screen Saver option. In that window, find where you saved your newly created Desktop Background and click on the image. This will add the Desktop Background for you. Super simple.

For Windows: Right-click your desktop and choose Personalize. Select Desktop Background from the windows' bottom left. Click your newly created Desktop Background for the background. Click the Save Changes button.

5. Now you get to clean! Drag your icons to the respective boxes and admire!
There are 3 different styles for you to choose from. All the links are at the bottom of the post. ENJOY!!