Summer Season Brain Dump Worksheet: Free Printable for a Refreshing Break
As summer arrives, it's the perfect time to take a refreshing break and recharge your mind. One great way to do this is through a summer brain dump. To help you clear your mind, we've created a Summer Season Brain Dump Worksheet that will allow you to declutter your thoughts and embrace the laid-back vibes of the season. Whether you're looking to plan your summer adventures or simply want to organize your thoughts, this free printable will be a valuable tool for you. So, grab a pen, find a cozy spot, and get ready to unwind!
Welcome the summer vibes
As the temperature rises and the days get longer, summer brings a unique energy that calls for relaxation and rejuvenation. Our Summer Season Brain Dump Worksheet is designed to help you embrace this vibe and make the most of your summer break. It's the perfect opportunity to let go of stress, declutter your mind, and create space for new ideas and experiences.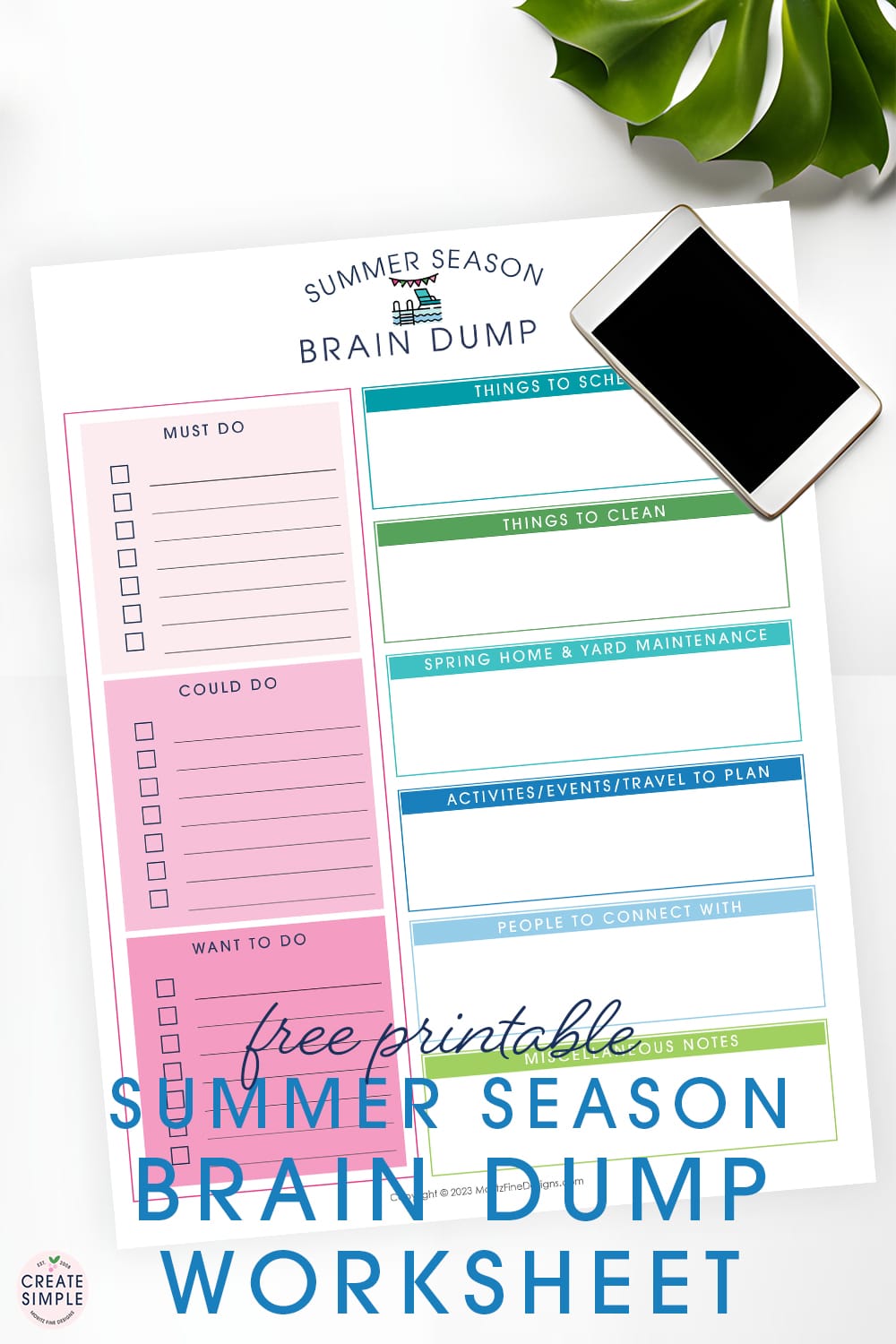 Embrace the Freedom of Summer
Summer offers a sense of freedom and adventure that is unmatched. With the Summer Season Brain Dump Worksheet, you can jot down all your aspirations, goals, and dreams for the season ahead. Whether it's planning a beach vacation, trying out new hobbies, or spending quality time with loved ones, this worksheet will assist you in organizing your thoughts and turning your summer dreams into a reality.
Reflect on Spring and set Summer Intentions
As we transition from spring to summer, it's valuable to reflect on the past season. You can also set intentions for the months ahead. Our Summer Season Brain Dump Worksheet helps you evaluate what worked well in the spring and what you'd like to improve or change in the summer. It helps you identify areas where you can grow, learn, and make the most of this sunny season.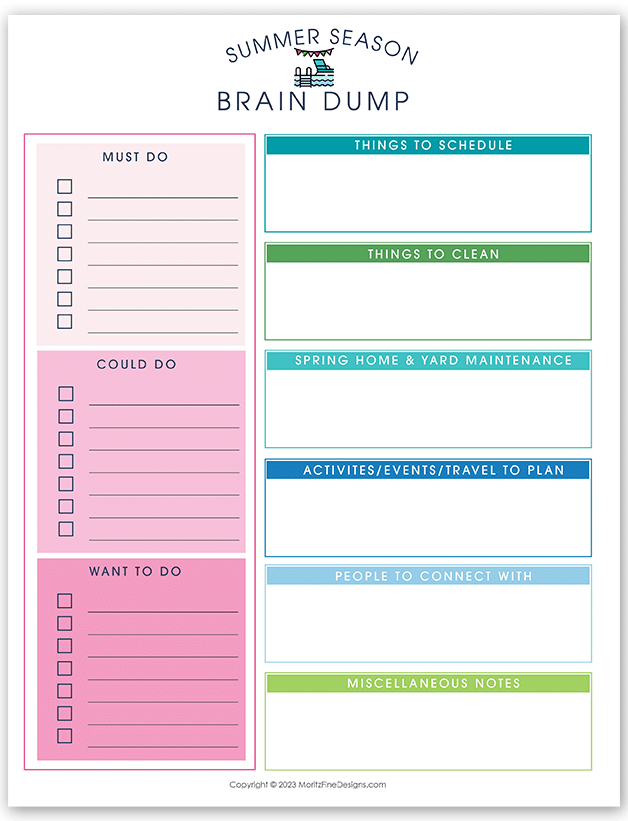 Simplify and Prioritize
Summer is all about simplicity and taking a step back from the busyness of everyday life. The Summer Season Brain Dump Worksheet allows you to simplify your thoughts, responsibilities, and goals. By prioritizing what truly matters, you can focus your energy on the activities and experiences that bring you joy and fulfillment. This worksheet will be your guide to achieving a well-balanced summer.
Plan your Summer Adventures
Summer is the perfect time for exciting adventures and memorable experiences. Use the Summer Season Brain Dump Worksheet to brainstorm and plan your activities. From family outings and road trips to outdoor picnics and exploration of new places, this worksheet helps you create a bucket list of adventures filled with your interests and desires.
Make the most of this summer season by embracing the carefree and relaxed vibes it brings. This brain dump will be your go-to tool for decluttering your mind and creating a roadmap for an unforgettable summer. Whether you want to set intentions, plan adventures or simply clear your head, this free printable will help you make the most of this fun time of year. Grab your download (use the button below) and let the summer inspiration flow as you complete your brain dump.
If you want to get more done each day…be sure to tackle your day with the Daily Task Organizer. You might just be surprised at all you can accomplish.
IT'S TIME TO
GET READY FOR 2024!
Get organized for 2024 with the easy to use monthly 2024 calendar! Simply opt in below to have the FREE calendar sent straight to your inbox.