How to Prepare for Black Friday Like a Boss
Black Friday takes Christmas shopping to an entirely new level. The biggest shopping day of the season has continued to grow year after year, and has even started on Thanksgiving night in recent years. Deals will start to appear as early as the beginning of November in some cases, and without a plan in place you'll miss all the deals. We've got you covered this year with these helpful tips to help you make your shopping trip go as smooth as it possibly can.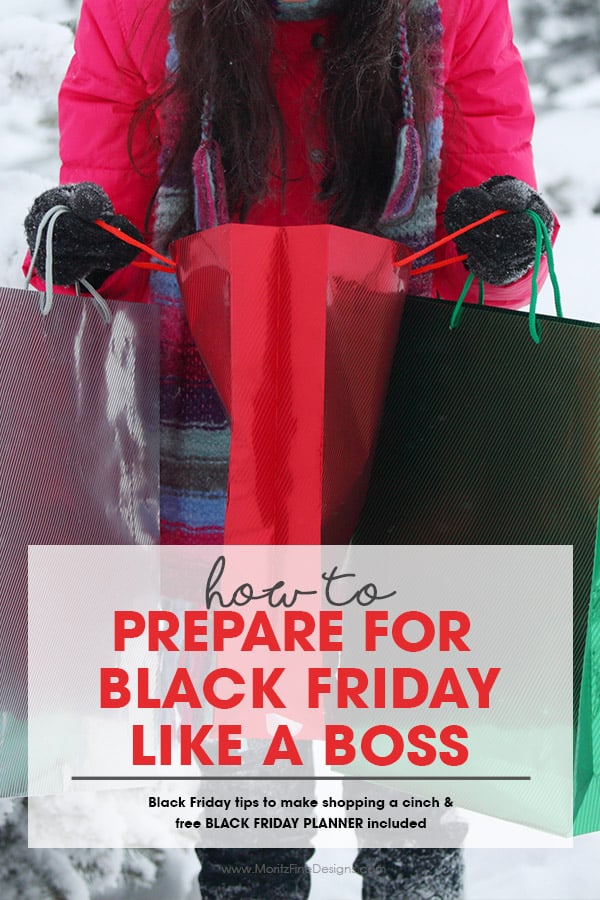 First, before you do anything else, use the Holiday Kickstart Organizer to plan who you need to buy gifts for this holiday season. Spend 15 minutes of time brainstorming a list of people that you need to give Christmas gifts or treats to. Keep this list handy to mark each person complete once their gifts are purchased.
Look at the Black Friday Ads ahead of time
Black Friday ads are leaked earlier and earlier each year. Start making glancing over your ads as soon as they are released to find out which stores are worth being at during Black Friday. Some of the stores might not have great doorbusters, so you may be able to wait until later to go. Go through your list as each new ad is released, and know where you need to go to prepare for your trip.
Use a tracker
Black Friday can often mean hitting up four or more stores to get great deals. With sales being released by the hour, you can't afford not to have a Black Friday Planner! Using this planner, you can keep up with any coupons you have for the store you're visiting, when it begins, and what you need while you are there. Be sure to download (available at the bottom of the post), print it out and make your final plan here after you've looked at all of your ads.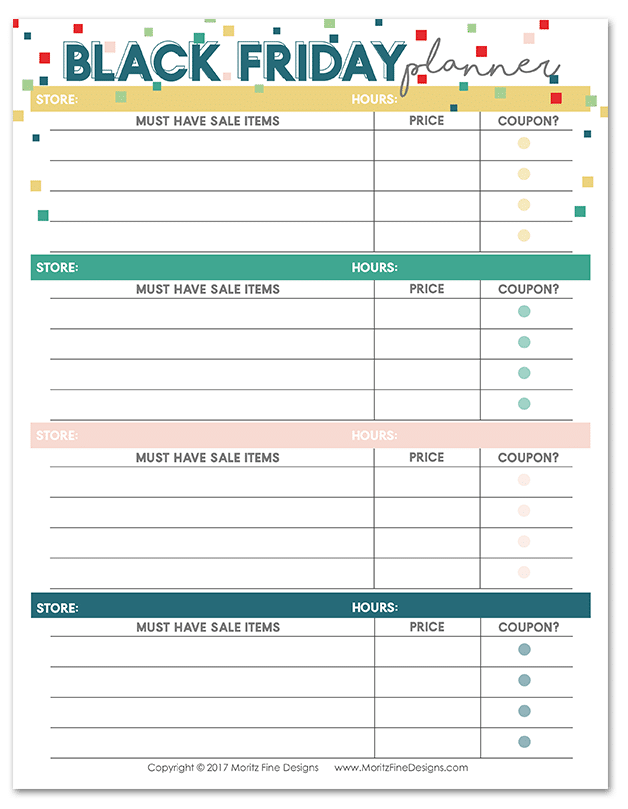 Know what you need to be in store vs. online for
Black Friday shopping in store is mayhem, and with doorbusters and other items gone in the first few minutes, it might not even be worth going to the store for. Some in store deals are going to be worth the trip, but you can also get tons of great deals by shopping online. Rotating deals do sell out, and crashing websites have been known to happen.
When making your game plan, be sure to check online versus in store deals before you go. Often times Amazon will drop prices to match competitors sale prices. Make sure you have Amazon Prime (free shipping) before Black Friday begins. Don't have Amazon Prime? Sign up here and try it for free for 30 days. Don't think you will use it after the holidays? Simply cancel before your 30-days are up.
Plan for a backup plan
No matter how well you plan your trip, you can still come all the way to the store and realize they are out of the item you came for. This is especially important if you were planning on snagging a doorbuster. You could wait in line for hours and still miss the deal, so you should have at least one or two backups you can grab if you can't get the item you wanted. Find similar items you can grab, or consider going to a different store.
Don't forget coupons!
Stores will put out great coupons prior to Black Friday, and you can really snag some deals if you are smart enough to bring them. If you plan on shopping in store or online, check around for coupons you can use. A coupon could mean the difference between going in store or online as well.
Black Friday can be a chaotic time with long lines, but it can also mean great deals. Don't miss these tips to keep yourself organize and take on Black Friday like a boss!
IT IS POSSIBLE TO
ENJOY STRESS FREE HOLIDAYS THIS YEAR!
The holiday season can be downright exhausting. We have too many things to do and not enough time to get them done. The 2023 HOLIDAY PLANNER will not only help you get organized, but will also help melt away that holiday stress so that you can actually enjoy the season!